Here is a good round-up of the impressive and unimpressive currently on my radar.
Impressive:
1) This banana bread recipe, so yummy (recipe is below)
2) My ability to defend for my masters successfully, and the 96 page thesis that accompanied that.
3)
This response
to the ridiculous Rick Perry ad, now infamous (and now the most disliked video in youtube history, out 'disliking'
Rebecca Black
. Nice.)
Unimpressive:
1) That I have to proctor and grade an exam for the undergrads this week, so I didn't really get out of finals without feeling a bit of the pressure. I am adding this picture on their final, though I don't think the Dukies will get the joke (Oh! Dukie SLAM!)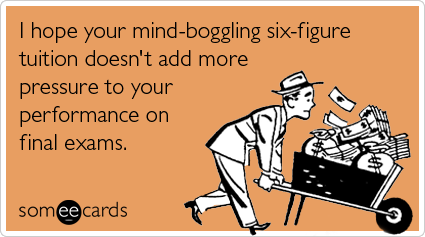 2) My ability to read the fine-print before taking out all those grad school loans. Apparently loans for grad school don't come with a grace period and I am to have a job January 1. So this e-card is for me. Karma much? - says my undergrads I just slammed.
3) My ability to find hats that fit my surprisingly large head (thanks, Mom). Good news though, I found this sweet ADJUSTABLE Santa hat at RiteAid for two bucks. It's a Christmas Miracle!!
Adjustable Santa's hat -seen here on Peabody
Banana Bread Recipe:


Ingredients
1/2 cup margarine or 1/2 cup butter

1 cup sugar

2 eggs

1 teaspoon vanilla

1 1/2 cups flour

1 teaspoon baking soda

1/2 teaspoon salt

1 cup mashed bananas

1/2 cup chopped nuts ( omit if you don't like nuts)

1/2 cup sour cream
Directions
Grease 1 large loaf pan.

Cream margarine, sugar, eggs and vanilla.

Add dry ingredients, then bananas, nuts and sour cream.

Mix well.

Bake at 350 F for 1 hour.