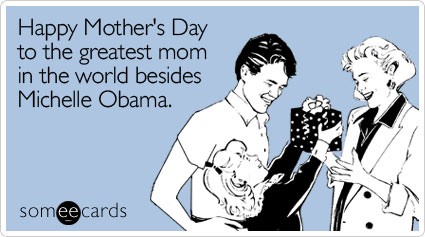 This week is Mother's Day. (Quick, run to the mailbox!)
So I am thinking about all the mamas I have known in my life, all the women who have shown me love, truth, sacrifice, patience, humor and strength. All the things I hope to be as a mom (some day!).
But mostly I think about my mom, all things my mom is, and all the things my mom is not. My friends often told me how much they loved my mom, sometimes for reasons that embarrassed me (beaver voice in the drive through window? ugh. Maaaawwmm.)
Here are ten things that I have learned from my mom, some more profound than others, but each one a small part of me woven by her.
1. The cure to most any ailment is a cold glass of water and fresh air. Except for heartaches. Heartaches require brownies.
2. Friends come in all shapes and sizes. Don't be afraid to introduce them to each other. If they all like you, perhaps they will like each other. This life is too short to be put your friends into cliques.
3. The pop-in is something to be used generously. We spent a lot of time as kids driving around, popping in on friends, bringing treats and surprises and having spontaneous gatherings - for 10 minutes or 2 hours.
4. Always leave the house wearing clean underwear. You never know whats going to happen. Or when you will run off the side of the road and some cute fireman will have to rescue you.
5. Pie. Always pie. Berry pie, pecan pie, apple pie. You never need an excuse for pie.
6. It takes a village to raise a kid. My mom always involved other parents in our lives. We spent a lot of time with other families, hacking out this life thing together.
7. Being outdoors is the best place to be. My mom would leave us (lock us?) out doors for hours on end. We would play in the backyard, sometimes with neighbor friends and sometimes by ourselves. She always made us be outdoors for one hour, every single day. Sometimes this meant taking walks up and down our little road. Sometimes this meant grabbing a book and sitting on a blanket. But everyday, outside.
8. You never know what you will get when you ask. Don't be afraid to ask for a discount, to ask for directions, for a recommendation, for a little assistance. And likewise don't forget to ask if someone around you needs directions, needs a recommendation, or needs assistance.
9. Its never too late to start something new. When I was a kid doing ballet, my mom picked up tap dancing. Since then she has taken classes on how to fly fish, speak Spanish, paint, and play tennis.
10. Be kind. Above all, be kind. Even to those who are terrible to you, those who are difficult to approach, or difficult to understand. There is never ever an excuse to be unkind.
Happy Mother's Day to you!